15th October 2021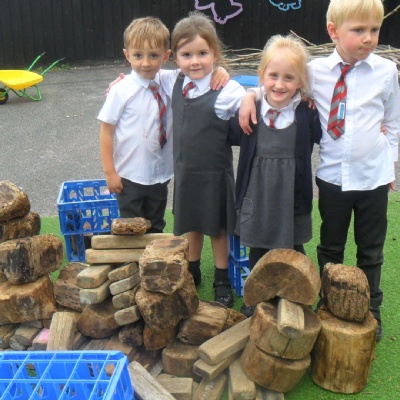 Talk Homework:
- Talk with your child about their local area, including features, significant buildings, street names, etc.
--Continue to read a minimum of three times a week and completing the reading log.
This week we have been learning about the skill of teamwork. The children built this amazing wall together displaying brilliant communication skills. When it collapsed they were not detered and simply joined forces for more teamwork to complete the repair. Very proud of them.
In phonics we have been learning the sounds i n m d. For i we read the 'Incy Wincey Spider' book and used spiders with magnets on to catch the i phoneme card. The caption action is moving a pretend spider up and down your arm. For n it was all about 'Emergency Vehicles' non fiction book and the action is the nee naw sound. For m we had a lot of fun reading 'Munch' the monster who loves eating toast. We then wrote the m grapheme on toast and even used knives to cut out the shape m. For d today we met Sam and Dave who dig a big hole in the story book. We then practiced the caption action by digging in soil to locate bones and diamonds. We have also started to blend the sounds taught to create simple word like sip, dim, Sam and pit. We also met the tricky word puppet who taught us the high frequency words is, in, it, as, at, a.
In maths we have been talking about 3 or not 3 using our maths knowledge to subitise and see quantities at a glance.
For PE we learnt a new game called 'Islands' in which we had to work as a team.
For Science, all things teeth have been added to the curiosity shed. We even got to clean some teeth and sort foods into those which can be eaten more regularly and those which should just be a treat.
Request for next week is for boxes suitable for building houses and other buildings as we will be creating a model village of Buckden next Friday.