20th May 2022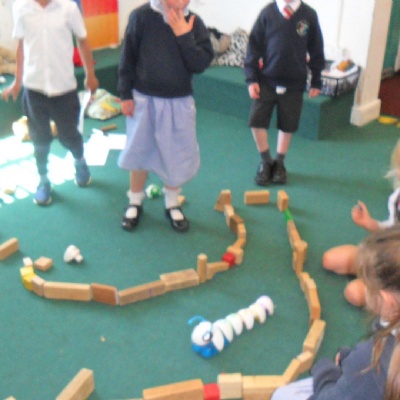 Talk homework: What is an arachnid?
Reading with an adult at least three times a week and record in the diary.
Today we had a marvellous time exploring the Coding Caterpillar. The children worked out the correct sequence to put the command pieces into the body of the caterpillar to follow the track they had built. They even debugged the device as one of the left turns made the toy break when it was added.
All week we have been learning about worms. We read the fiction/ non-fiction book 'Yucky Worms' to learn more about them. We went outside to try and coax worms to the surface by pouring on water to create rainy conditions. Sadly, they were not fooled and remained beneath the soil. We did find 4 worms during nature school, under some logs. We added these to a wormery so we can watch how they make tunnels.
Two of the caterpillars have now formed chrysalises.
Maths has been sequencing digits 1-10 and beyond and playing track games.
In PE, we practised the skill of jumping performing two footed bounces, one footed leaps and long jumps. This will help us when we do sack racing, hurdles and long jump at sports day.