25th February 2022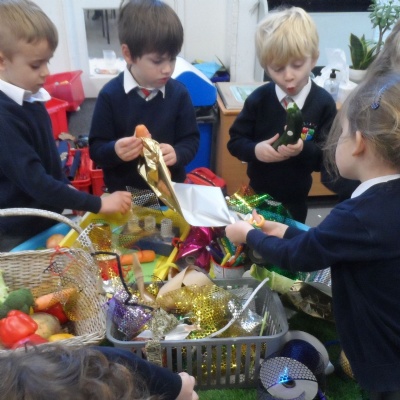 Talk homework:
This week we'll be exploring magnets. Find some magnets in your home and practise experimenting with what the magnets do and don't pick up. Talk to your children about what they notice and help them predict what will happen with certain objects.
Read a minimum of three times per week with your child.
URGENT REQUEST: ONE OF THE CHILDREN IN ACORNS HAS LOST HIS PRESCRIPTION GLASSES. THEY HAVE BUZZ LIGHTYEAR ON THE FRAME. PLEASE CHECK IF YOUR CHILD HAS ACCIDENTALLY TAKEN THEM HOME AND PLEASE CONTACT US ON THE EYFS EMAIL TO LET US KNOW IF YOU FIND THEM. THANK YOU!
It's been a busy week in Acorns -- hard to believe we ever had a half term! The children have returned and learned that we are starting a new topic...Superheroes! We started by reading Supertato in Literacy. We had our very own Supertato in our class, and he did capture the evil pea in jelly, but the evil pea escaped! Fortunately, Acorn children were on hand to write some fantastic Wanted posters describing the evil pea and warning Buckden residents of his dastardly deeds. We also had such fun creating our own fruit and vegetable superheroes and perfecting our fine motor skills, using tweezers to pick peas out of a selection of frozen veg. In maths, we revised one more and one less, using Numberblocks to improve our understanding. In Bounce, we've been discussing a lovely story about passing clouds and how our feelings are just like passing clouds:
"Feelings may come and feelings may go. I do not always understand why. If I close my eyes and breathe deep and slow, they will pass like the clouds in the sky."
The children enjoyed learning this poem as a way to help them calm down and relax if they feel angry, sad, embarrassed, excited or sad. Lastly, in PE we started dance this week and listened to some emotive superhero theme songs to inspire us to move in different ways to the music.
Wishing you a restful weekend.