12th March 2021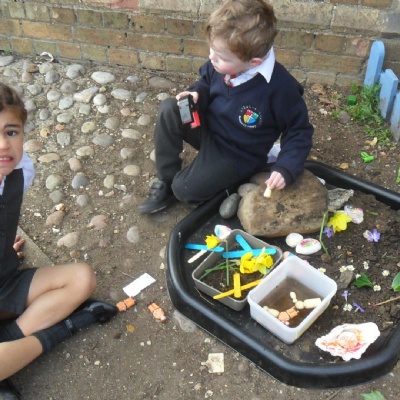 Talk homework- Chat about people in the community who are real lift super heroes- eg. emergency services staff and community workers.
What a wonderful week back together we have had. Your children have been amazing at adapting back to being in school. Above is a picture of the Easter garden the children have been making together. Our skill focus of Creativity has really helped out. We have also made pictures inspired by Mondrian.
In maths, we have started to learn about the numbers 14, 15 and 16 and in literacy we have loved reading the story Super Kid. It had lots of rhymes in it and we have been creating our own rhyming strings.
As part of our mental wellbeing week, we have talked a lot about friendship, kindness and gratitude. The children made Thank you letters for friends and family and our Wall of Happiness is proudly displayed.
The finale of the week has been creating potions in our nature school session. Today, we wrote descriptions of what they do if you drink them and my goodness what imaginations we had.