28th May 2021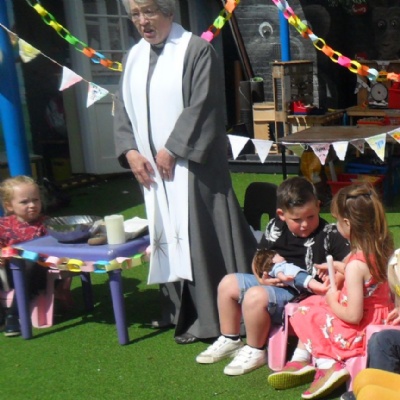 Talk Homework- Discuss our Baptism celebration. What can you remember about this special occasion? Can you sing the hymn, This Little Light of Mine for your family?
Reading- at least 3 times a week please.
What a magical day we have had celebrating the Christening of River Comstock. Our parents and Godparents did an amazing job as Rev Pam delivered her beautiful ceremony. The children created stunning decorations and enjoyed many games and dances at the after party.
Our learning focus has been Birds this week. We have made nests, been bird spotting, created bird feeders and learnt Two Little Dickie Birds.
We were also so lucky on Friday to have a virtual visit of Sacrewell Farm thanks to one of our parents. We saw donkeys, goats, sheep and even piglets!
Have an amazing half term break and see you next half term ready to 'Go Around the World in 28 Days!' which is our next topic.