18.12.20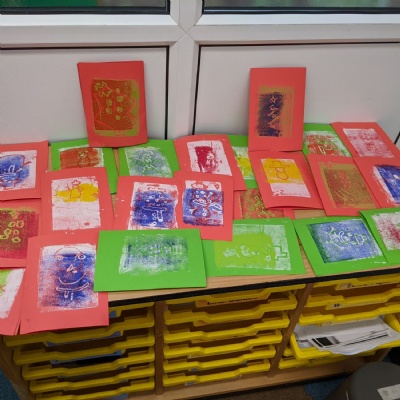 This week we have really enjoyed doing art. In art we were making Christmas cards by using coloured inks to make either Christmas trees or snowmen. We printed our cards.
We have also enjoyed reading Harry Potter and the Philosopher's Stone. We are hoping to finish it today!
This week we have enjoyed making our trains in DT. We stuck them together by using sellotape and we used wooden wheels, wooden axels and a cardboard base. We used junior hacksaws to cut the wood to the right size.
We also had a surprise today which we enjoyed.
We have been using our maths skills to complete some maths colouring which we loved doing.
We also got to watch the Christmas Carol Concert, it was really good. Last week we went to church to record our song for it, it was fun.
We have made LOTS of mess this week! But we have been great at tidying it up. See the pictures below.
Merry Christmas and a happy new year
From Rachel Carson
P.S.
There is a Christmas Eve jingle at 6pm (sort of a Christmas take on the clap for the NHS), to share some magic, community spirt and help guide Santa by the sound of bells.