07/05/21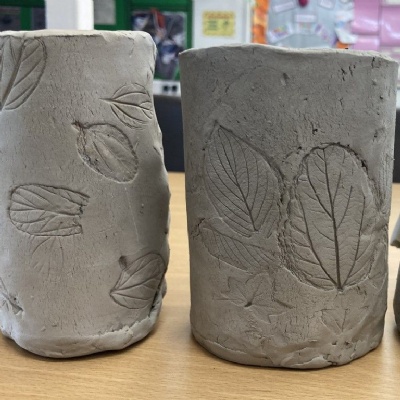 Talk Homework:
What will you add to your basic bread dough recipe? Are you going to make it sweet? Or do you want it to be savoury?
What flavours will compliment each other?
How much do you think you will need to add to your bread recipe?
We have been working hard on our creative skills this week. We have designed and made vessels for carrying water out of clay (mugs). Being Spring, we have spent a lot of time admiring the leaves and looking at the textures these leaves create when using pastels to create rubbings of them.
From this, we chose the leaves we liked the most based upon the pattern that they created and used them to imprint on our mugs. Carefully we rolled our clay so that it was about 1cm thick. We then laid our leaves face down on the table and put our clay on top of them, rolling 5 times over it again so that the leaves stuck to the clay. We then used our water bottles as a guide to roll the clay around them to make a cylinder for our mugs. We then created the bottom of the mug, using the clay that was left, we drew around the cylinder to get out base to be the correct diameter and then but the two parts together. We then created handles for them,
Once that was complete, we took the leaves off the mugs and the picture above shows some of the imprints that were left behind.
They have been left in our room to dry over a week now and will be going in the kiln on monday so that we can glaze them next week. We are so excited to see what the final mugs will look like, watch this space......!