21st January 2022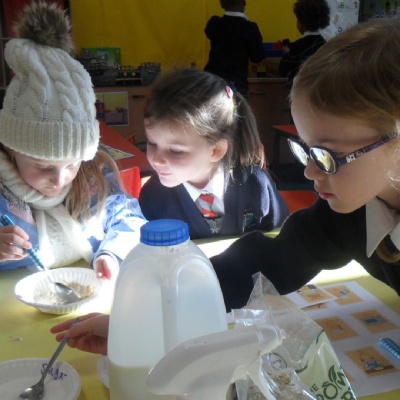 Talk Homework: Watch or read the story Rapunzel.
Reading: 3 times a week at least please
Goldilocks and the Three Bears has been the inspiration for all our learning this week. We had the bears visit home corner and add spoons, bowls and chairs of different sizes. We also made our perfect porridge deciding upon temperature, sweetness and saltiness. We created story maps, miniature books and wanted posters around the story.
In phonics, we have learnt igh, oa, short oo and long oo. We encountered the tricky words like, you, said too.
In maths, we have been exploring the number 5 and the composition of the number 5 learning the song, Five Little Speckled Frogs.
In PSHE, we have been learning about healthy eating and creating a balanced plate.
In PE, we have been throwing and catching bean bags.
In Music, we learnt the song, 'When Goldilocks Went to the House of the Bears'.
In French, we learnt the rhymes Allouette and Frere Jacques.
In Art, we have begun our final pieces of art work creating the powder painted background scenery for our chosen fairy tale and started to experiment with making silhouettes for the foreground.