11th February 2022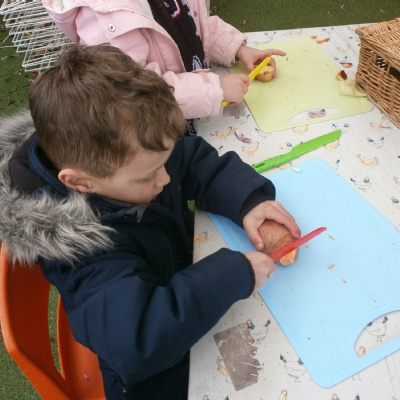 Talk Homework:
Talk to your children about who your "superheroes" are and why you admire them. Share photos or books or memories if they are, for example, a family member.
Read with your child a minimum of 3x per week.
This week to culminate our 'Once Upon A Time' topic we read the story the enormous turnip. The children worked in groups to create their own illustrations and sentences to match the story. We then learnt the skill of cutting up root vegetables and then put them into a big soup. The children mostly enjoyed eating it, although some were not keen on the texture.
In art, we have finished our silhouette artwork with the children adding their foreground cut out shapes. We also made observational drawings using oil pastels of a wide range of vegetables.
In maths, we have been learning to tell the time. We learnt the days of the week and months of the year song. We talked about vocabulary of time- morning, afternoon, evening, lunchtime etc. We also played 'What's the Time Mr Wolf' and used clocks to show o'clock times.