4th March 2022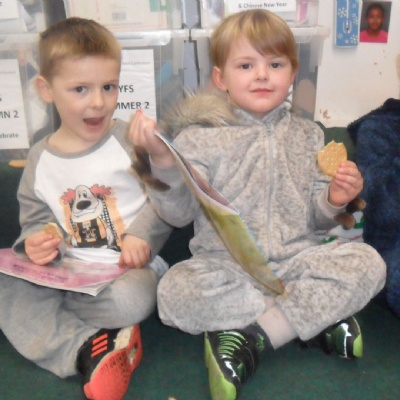 Talk Homework- Talk about the composition of 7 eg. 5 and 2, 1 and 6 etc. Also look up Corita Kent as next weeks artist.
World Book Day was a highlight this week. We got to snuggle up in our sleepwear and enjoy a good book along with a biscuit and hot chocolate. A perfect way to spend a day. The children bought in such a wide variety of books for us to share and talk about.
On Tuesday, we had a visit from a soldier. We got to hear what his job involves and look at his uniform and kit bag. The children got to ask questions and really learnt a lot about what this 'Super Hero' does.
On Wednesday, we visited the local farm again. We passed the sapling trees we planted and thankfully the wind hasn't broken them. At the farm, we saw the sheep and lambs. They were so wonderful. We also learnt about log chopping and barley harvesting.
In maths, we have started to learn about bar models to make totals to 8 and in phonics we have been revising phase 3 digraphs and using them to write words and sentences.
On top of all this, we have explored magnets and ice, created art work sculptures of humans using tin foil, learnt about what to do if we get lost in public, reading the story Super Daisy and writing our own similes and learning all about Palm Sunday.
We are definitely ready for a weekend now!!!