28th June 2022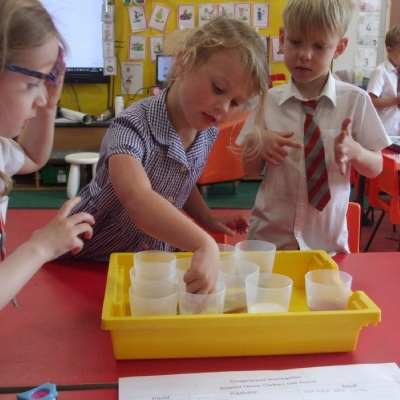 We carried out an experiment today to investigate what happened to gingerbread biscuits in different liquids. We tried out oil, water and lemonade. We made predictions first and used great vocabulary like- soggy, crumble and be like sand.
Interestingly the results were; water the biscuit broke up, lemonade the biscuit went into tiny beads and oil the biscuit stayed the same.
The children were then inspired to try different liquids. We used milk, antibac, squash, salty water, soapy water and vinegar. The biscuit changed at different speeds with each liquid.
In our self chosen learning, we have explored many other scientific concepts. Here are some quotes;
'The sound tickles your ear' Jude- Tuning forks
'When you touch it, it stops moving and making sound' Olivia- Tuning forks
'If you hit is hard, it is noisier' Logan- Tuning forks
'We had to guess what people did' Mia- assembly with STEM career visitors
'We had to get oil, water and lemonade, dip the cookie in and see if it was hard or soggy' Willow- chemistry investigation.