22nd October 2021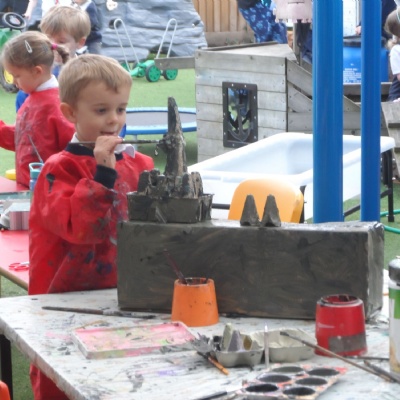 Half term Homework:
* Please help your child to practise writing their name. A handwriting sheet with their name in the school handwriting style was sent home with their reading folders.
* Please help your child learn to dress and undress themselves, including doing buttons and zipping up their coats.
*Continue to read a minimum of three times per week and please write in the Reading Record when you have done this.
This week has been a busy one! We've learnt the sounds g, o, c and k and we have been learning our 2D and 3D shapes in maths. We have continued our work about emotions and learning to "tame" the tigers that sometimes can be inside us. Today we designed and built a model village. The children loved using the variety of boxes in our junk modelling collection (thank you for your donations!) to create clubs, houses, a library and a church. They were delighted with the finished product -- an actual village...with a zoo! Have a safe and happy half term!