10th December 2021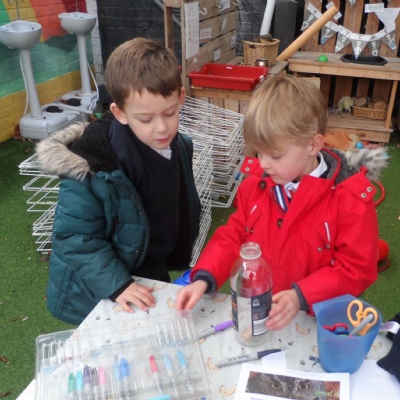 Talk Homework- Next week we will be becoming bakers and creating our own bakeries and sweet treats in teams of three as part of our Skills Builder learning project. Could you please carry out some research- looking at Christmas cakes and treats in the shops/ in bakeries and maybe even doing some taste testing.
As always, please also read at least 3 times a week and focus upon securing reading on sight the words I, to, no, go, into, the.
So, your children have been amazing and performed their little socks off. They presented our show to Mrs Heather who was very impressed. We have made a recording and are in the process of editing it and uploading it ready to share with you. As well as this, we have been working hard to create a range of Christmas crafts We have also made some lovely bird feeders which have been put up in our nature school area to help the birds stay well-fed through the winter months.
In maths, we have been matching digits to quantities including baubles on a tree and parcels in a stocking. Today we have started to learn about size by comparing large, medium and small santa's hats, baubles and lengths of tinsel. We used the vocabulary; small, medium, large, big, little, tiny, massive, medium sized, long and short.
In phonics, we have learnt x, y and z.