Friday 22nd October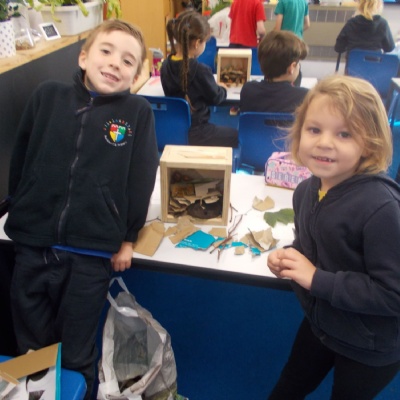 No talk homework, have a lovely half-term break.
We have had a fantastic last week of this half-term. On Tuesday, we performed our play to the whole of Upper school. It was a fantastic afternoon and everybody thought our singing was really good. Mrs Routledge has helped us all to learn our songs so well. Thank you Mrs Routledge!
On Wednesday, we had a whole day of science. We were thinking about habitats and micro habitats. We were able to think of lots of different habitats e.g. fields, mountains, jungle, city, hedgerows, woodland, oceans, reservoir. We also learnt the difference between a habitat and a microhabitat. A microhabitat is part of a bigger habitat e.g. under a log.
On Thursday, we finished making our bug hotels in DT. We worked extremely hard to make the inside of our bug houses to ensure the contents e.g. leaves, twigs, bark and conkers did not fall out! Then we evaluated our product to decide what we liked and what we might do differently next time.
We had a special visit from Mrs Heather today to come and talk to us about our learning this half term. It made us feel happy to share what we really liked with another person.
Have a restful and safe half-term holiday.
Maple class.