Blog 25.3.22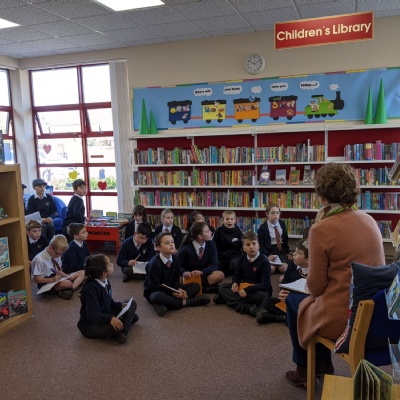 Talk Homework: To practice your times table. Get prepared for Grafham Water.
On Thursday we went to the Buckden Library because in Skills Builder we were looking at how to design a good reading environment. We went to the library, and we got to see all the books and how and why it laid out in that way. On our out we were given some bookmarks by the librarian.
Also, on Thursday, painted our Suffragette Rosettes.
In English, we have been focusing on a video called 'The Present'. We have used to write adverbials, speech and expanded noun phrases.
We have been learning about fractions, in maths. We've been adding fractions for example four fifths plus four fifths equals one whole and three fifths.
In RE, we draw a character from a book who was brave. Next to it, we wrote down why the character was brave.
In PE, we've been continuing our routine for Sister Suffragettes. Also in PE, we have been running two laps as a group, then rest, then another two laps.
Today, some of us got our TTrockstar certificates for our Rock Star Status.