Everything Environmental
Here at Buckden we always have sustainability in mind. Our School Curriculum is based the United Nations seventeen Sustainable Development Goals. Therefore, we are always looking at ways in which we can make difference as individuals and as a school community. We are going to use this page to share a little of what we are doing.
JUST ONE Tree Day - Friday 13th October 2023
Eco award feedback

Congratulations On Passing Your Eco-Schools Green Flag!
Congratulations!!!
Fantastic work Mrs Anderson.
We are very pleased to tell you that you and your Eco-Committee at Buckden CE Primary Academy have been awarded an Eco-Schools Green Flag.
We reviewed your application and noted the following:
It's wonderful to see the high number of young people electing to be members of your Eco-Committee. This is a clear reflection of your school's excellent commitment to both the programme and the eco-cause. Your minutes show a clear focus on generating discussion among your young people, outlining small steps that everyone can take to make a big impact! We love how completing your Environmental Review helped your Eco-Committee to spot gaps in your school's existing environmental activity. But equally important is that it helped you to recognise the great work that you were already doing. Also exciting is how it served as a source of inspiration for new eco-initiatives. We thought your Action Plan was fantastic! It was concise, SMART (Specific, Measurable, Achievable, Relevant and Time Bound) and clearly reflected a collaborative and inclusive approach to the decision-making process. We also loved how your short-term goals had already translated into positive action with the implementation of energy monitors, but also gave consideration to longer term goals achievable through fundraising. We're really impressed at how you've linked environmental issues to a variety of curriculum areas. This approach looks at the big issue of climate change in a holistic way, which is the best approach to understanding and appreciating the enormity of the issue. It was brilliant to see the Eco-Coordinator's vibrant and engaging lesson materials. A great example of how to generate discussion and debate on these important issues! Your Everything Environmental website is inspiring! A wonderful educational hub that brings students and the local community together in pursuit of a common goal. We love how proactively you have engaged with various national organisations, including RSPB and Keep Britain Tidy. This is a great example of the collaborative approach we will all need to adopt to combat climate change. Fantastic work! It was a joy to read the parent quote that reflects the positive impact all your hard work has on your young people. It is clear that they take great pride in their Eco-Schools work. We loved seeing the powerful and creative message on your Eco-Board. It's also good to see your Eco-Committee members on the board. This is a great way to raise their esteem and make their schoolmates feel like they can approach them and get involved with your Eco-Schools work! We love how your simple and practical Eco-Code references the three areas that you have chosen to focus on collaboratively. It is clear that the whole school stands firmly behind these initiatives! Congratulations to you all for your thoughtful and creative approaches to bringing about change. You should all be very proud. A thoroughly-deserved Green Flag accreditation!
Environmental Engineering project

Well done to Year 3 who entered an engineering project earlier this academic year. They were tasked with inventing an environmental product linked to travel. This linked to our sustainable development goal - Industry, Innovation and Infrastructure.
We are so pleased to announce that all pupils received a certificate to celebrate their achievements. We also received a distinction in the category and a distinction plus shortlisting into the final for one of our pupils.
As always, we are very proud of you.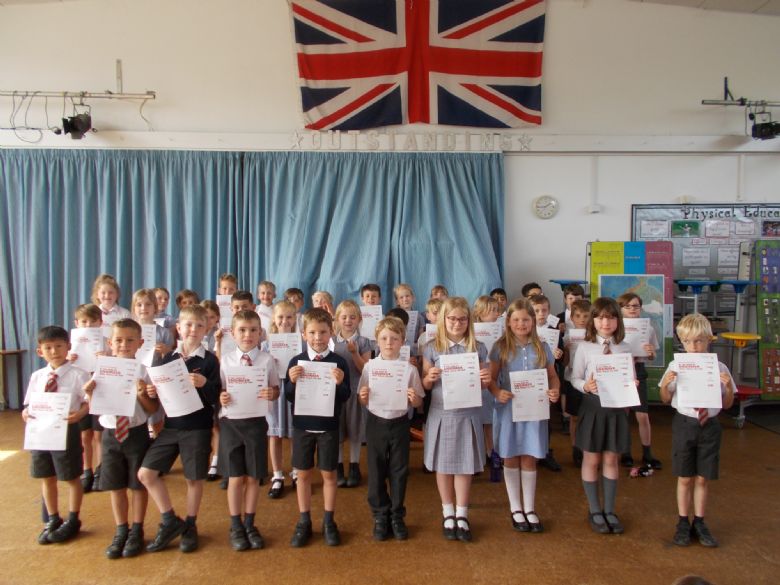 The Big Plastic Count

This week, Buckden School will take part in the Big Plastic Count. This is the UK's biggest investigation of household plastic waste. We would like everyone at Buckden School to get involved so that we can highlight how much plastic gets wasted in the UK.
Therefore, we would like you to tally all the plastics you throw away from Saturday 21st May until Friday morning 27th May. Then, send the totals in with your children Friday morning so that we can do a whole school tally. I will then upload the data so that we can measure how much plastic is wasted.
Many Thanks,
Mrs Anderson and the Eco-Committee
RSPB Wild Challenge

We have been working hard towards our RSPB Wild Challenge Bronze Award and are proud to announce that we have achieved it. We had to demonstrate how we help and learn about nature. Examples of work include: participating in the big school bird watch, completing a plant safari, ensuring we use composters and planting our school grounds in order to support and attract wildlife.
Eco-Council

We have an Eco-Council that are looking at ways in which we can reduce our carbon footprint and will keep you informed on this page.
We hope to gain the Eco-Schools award and our Eco-Council will be helping us do this.
Currently, the Eco-Council are working on composting all the fruit waste such as apple cores and banana skins so we can make our own compost to put onto our vegetable and flowers beds.
Plants in the Classroom

Air quality, well-being and aiding concentration are all things we value and research has shown that plants in classrooms help to do this. Therefore, we are also launching 'Plants in the Classroom' initiative after seeing the benefits at RHS Chelsea Flower Show. The initiative is being supported by the PTA who have generously given us £30 per classroom to purchase plants.
All classes have a Peace Lily on the recommendation of Father David, as he explained they have been proven by NASA to be one of the most beneficial houseplants for taking toxins out of the air.
We would be very grateful if any members of our school community were able to donate any plants to the school, as we endeavour to green up our indoor environment.
Each class will have a pair of plant monitors each half-term, who will help to look after the plants and then pass on their knowledge to the next pair.
Plant-based Recipes

We would like to create a place here to share plant-based recipes from our school community as part of our Eco Schools mission:
Cauliflower fritters with herby dipping sauce

Cauliflower fritters with herby dipping sauce
Ingredients
For the batter
For the dipping sauce
Method
Whisk batter ingredients together, then let it rest while you make the dipping sauce. Mix sauce ingredients together and set aside. Cook cauliflower in boiling salted water for 2 mins, then drain and refresh with cold water.
Heat about 10cm depth vegetable oil in a high-sided pan. Once oil is hot, test with a small bit of bread – if it turns golden in 30 secs, it's ready.
Dip the dry cauliflower into batter, shake off any excess and place in the hot oil. Fry in batches until golden, about 3 mins, then remove to a plate lined with kitchen paper. To keep warm, keep the florets in a low oven. Once all the cauliflower is fried, season with sea salt and serve with the sauce.
Vegan sausage roll

Ingredients
250g chestnut mushrooms
3 tbsp olive oil
2 leeks, finely chopped
2 large garlic cloves, crushed
1 tbsp finely chopped sage leaves
1 tbsp brown rice miso
2 tsp Dijon mustard
30g chestnuts, very finely chopped
70g fresh white breadcrumbs
1 x 320g sheet ready-rolled puff pastry (not the all-butter version)
plain flour for dusting
dairy-free milk (like soya milk), to glaze
Method
STEP 1

Tip the mushrooms into a food processor and pulse until they are very finely chopped. Put half the olive oil in a large frying pan, add the leeks along with a pinch of salt and fry gently for 15 mins or until softened and golden brown. Scrape the leeks out of the pan, into a bowl and set aside to cool a little.

STEP 2

Heat the remaining oil in the pan and fry the mushrooms for 10 mins over a medium heat. Add the garlic, sage, miso and mustard, and fry for a further minute. Leave to cool slightly.

STEP 3

Heat the oven to 200C/180C fan/gas 6. Tip the mushroom mixture into the bowl with the leeks, then add the chestnuts and breadcrumbs. Season, then mix everything together until you have a slightly stiff mixture.

STEP 4

Unravel the pastry on a floured surface, then roll the pastry out so that one side measures 43 cm. Mould the mushroom and leek mixture into a sausage shape down the centre of the pastry, then bring the pastry up around the filling and seal along the seam with a fork. Cut into ten pieces. Lay on a parchment-lined baking sheet and brush each piece with milk. Bake for 25 mins or until deep, golden brown. Leave to cool a little and sprinkle with sesame seeds before serving.
QUORN, ASPARAGUS AND PEA RISOTTO

INGREDIENTS
300g Quorn Pieces
15ml (1 tbsp) olive oil
1 onion, finely chopped
1-2 garlic cloves, crushed
200g (10oz) Arborio risotto rice
125ml (4fl oz) white wine
570ml (1pints) hot vegetable stock
50g (3oz) vegetarian pesto
100g (2oz) vegetarian Parmesan cheese or an Italian hard cheese, grated (plus extra for garnish)
175g (6oz) frozen peas
225g (8oz) fresh young asparagus tips
Handful of fresh basil leaves, torn
25g butter
Salt and freshly ground black pepper
METHOD
In a large saucepan heat the oil and fry the onion and garlic, cook for about 5 minutes until the onions have softened, adding the garlic after 4 minutes.
Add the rice and stir to coat the oil, add the wine and mix well. Add a ladleful of hot stock, and stir until this has been absorbed by the rice. Continue to add stock, ladleful by ladleful, stirring continuously, until it has all been used up and the rice is creamy, this will take between 15-20 minutes.
Meanwhile in another frying pan melt the butter and fry the Quorn pieces, peas and asparagus. Cook for 5 minutes until the pieces are golden. Add the Quorn pieces, peas and asparagus to the rice and cook for a further 5-10 minutes, stirring occasionally, until the rice is cooked.
Stir in the pesto and half of the grated vegetarian cheese.
Serve immediately with some grated vegetarian Parmesan cheese and the remaining basil leaves. Serve with a crisp, fresh mixed salad.
Vegan pancakes

Ingredients
300g self-raising flour
1 tsp baking powder
1 tbsp sugar (any kind)
1 tbsp vanilla extract
400ml plant-based milk (such as oat, almond or soya)
1 tbsp vegetable oil for cooking
To serve (optional)
banana slices, blueberries, maple syrup, vegan chocolate chips, plant-based yogurt
Method
STEP 1

Whisk the flour, baking powder, sugar, vanilla extract and a pinch of salt in a bowl using a balloon whisk until mixed. Slowly pour in the milk until you get a smooth, thick batter.

STEP 2

Heat a little of the oil in a non-stick frying pan over a medium-low heat, and add 2 tbsp batter into the pan at a time to make small, round pancakes. You will need to do this in batches of two-three at a time. Cook for 3-4 mins until the edges are set, and bubbles are appearing on the surface. Flip the pancakes over and cook for another 2-3 mins until golden on both sides and cooked through. Keep warm in a low oven while you cook the remaining pancakes.

STEP 3

Serve stacked with lots of toppings of your choice, or serve with bowls of toppings for everyone to help themselves.
Roasted aubergine and tomato curry

Roasted aubergine and tomato curry
Ingredients
600g aubergine, or baby aubergines sliced into rounds
3 tbsp olive oil
2 onions, finely sliced
2 garlic cloves, crushed
1 tsp garam masala
1 tsp turmeric
1 tsp ground coriander
400ml can chopped tomatoes
400ml can coconut milk
pinch of sugar (optional)
½ small pack coriander, roughly chopped
rice or chapatis, to serve
Method
Heat oven to 200C/180C fan/gas 6. Toss the aubergines in a roasting tin with 2 tbsp olive oil, season well and spread out. Roast for 20 mins or until dark golden and soft.
Heat the remaining oil in an ovenproof pan or flameproof casserole dish and cook the onions over a medium heat for 5-6 mins until softening. Stir in the garlic and spices, for a few mins until the spices release their aromas.
Tip in the tomatoes, coconut milk and roasted aubergines, and bring to a gentle simmer. Simmer for 20-25 mins, removing the lid for the final 5 mins to thicken the sauce. Add a little seasoning if you like, and a pinch of sugar if it needs it. Stir through most of the coriander. Serve over rice or with chapatis, scattering with the remaining coriander.
Accordion content
Baked ratatouille with butter bean mash

Baked ratatouille with butter bean mash
Ingredients
2 courgettes, sliced into 1cm rounds
3 peppers, deseeded and cut into bite-sized chunks
3 red onions, thickly sliced
250g salad tomatoes, roughly chopped
2 tbsp olive oil
2 tbsp herbes de Provence
3 garlic cloves, unpeeled
400g tin chopped tomatoes
2 x 400g tins butter beans, drained and rinsed
10g fresh basil
Method
Preheat the oven to gas 6, 200°C, fan 180°C. Toss the courgettes, peppers, onions and vine tomatoes with 1 tbsp oil, the herbs and garlic in a large roasting dish; season. Bake for 15 mins, then stir in the tinned tomatoes. Bake for 20-25 mins until the veg is tender and jam-like.
Scoop out the garlic and squeeze into a saucepan, discarding the papery skins. Add 50ml water, 1 tbsp oil and the beans; heat through over a low heat for 5 mins. Mash or blitz in a food processor until thick and creamy, adding a little more water if needed.
Divide the mash between 4 plates and spoon over the ratatouille. Tear over the basil leaves to serve.
Bean burgers with carrot fries

If you're looking for an easy and healthy vegetarian burger recipe then look no further. This bean burger with carrot fries is the perfect four step recipe, plus it's vegan too.
Serves 4
10 mins to prepare and 30 mins to cook
490 calories / serving
Freezable
Vegan
Vegetarian
Dairy-free
Ingredients:
500g carrots, peeled and cut into 1cm-thick fries
2½ tbsp olive oil
5 white batch rolls
1 red onion, finely chopped
2 garlic cloves, crushed
1 red chilli, deseeded and finely chopped (optional)
2 x 400g tins kidney beans, drained and rinsed
1 tsp dried oregano
10g fresh flat-leaf parsley, roughly chopped
Small leaves from 1/3 round lettuce
1/4 cucumber, thinly sliced
½ x 340g jar pickled cabbage, drained
Method:
Preheat the oven to gas 7, 220°C, fan 200°C. Put the carrots on a large baking tray, drizzle with ½ tbsp oil and season lightly. Roast for 25-30 mins until tender. Slice 4 rolls in half and put sliced-side up on the tray for the last 5 mins.
Meanwhile, heat 1 tbsp oil in a frying pan over a medium heat. Add the onion, garlic, and chilli, then cook for 5-7 mins until softened. Blitz in a food processor with the beans, oregano, parsley, remaining bread roll and some seasoning until mostly smooth.
Shape the mixture into 4 patties, about 2cm thick and 8cm wide. Heat 1 tbsp oil in a frying pan over a medium heat and fry the patties for 5 mins each side or until crisp.
Divide the lettuce between the bottom halves of the buns. Top with a patty, cucumber and cabbage, then the lid. Serve with the fries.
Indian chickpeas with poached eggs

Ingredients
1 tbsp rapeseed oil
2 garlic cloves, chopped
1 yellow pepper, deseeded and diced
½ - 1 red chilli, deseeded and chopped
½ bunch spring onions (about 5), tops and whites sliced but kept separate
1 tsp cumin, plus a little extra to serve (optional)
1 tsp coriander
½ tsp turmeric
3 tomatoes, cut into wedges
⅓ pack coriander, chopped
400g can chickpeas in water, drained but liquid reserved
½ tsp reduced-salt bouillon powder (we used Marigold)
4 large eggs
Method
Heat the oil in a non-stick sauté pan, add the garlic, pepper, chilli and the whites from the spring onions, and fry for 5 mins over a medium-high heat. Meanwhile, put a large pan of water on to boil.
Add the spices, tomatoes, most of the coriander and the chickpeas to the sauté pan and cook for 1-2 mins more. Stir in the bouillon powder and enough liquid from the chickpeas to moisten everything, and leave to simmer gently.
Once the water is at a rolling boil, crack in your eggs and poach for 2 mins, then remove with a slotted spoon. Stir the spring onion tops into the chickpeas, then very lightly crush a few of the chickpeas with a fork or potato masher. Spoon the chickpea mixture onto plates, scatter with the reserved coriander and top with the eggs. Serve with an extra sprinkle of cumin, if you like.
Vegan Tiffin

Ingredients
75g coconut oil, plus extra for the tin
200g vegan dark chocolate (at least 70%), roughly chopped
2 tbsp golden syrup
200g vegan ginger nuts
100g dried cranberries
50g pistachios, toasted and chopped
Method
STEP 1

Lightly oil a 20cm square brownie tin with coconut oil and line the base with baking parchment. Melt the chocolate with the coconut oil and golden syrup in the microwave in 30-second bursts until smooth and glossy.

STEP 2

Break the ginger nuts into small pieces in a bowl, then add the dried cranberries and pistachios. Scrape in the chocolate mixture and give everything a good mix to combine, then spoon the tiffin into the tin. Use the back of the spoon to smooth out the top and press it down, then chill in the fridge for 2 hrs or until set hard. Once set, cut into 25 mini squares. Will keep for a week in the fridge
Vegan Katsu Curry

This recipe is one of my daughter's favourites. I hope you enjoy!
Ingredients:
1 large aubergine
1 sweet potato, peeled
about ½ cup all-purpose flour / rice flour for GF version
salt & pepper
about 1 cup gelatinous aquafaba, homemade or from a tin of chickpeas
about 100 g panko breadcrumbs or GF breadcrumbs if required
2 tbsp sesame seeds
high smoke oil for shallow frying
CURRY SAUCE
2 tbsp neutral tasting oil
1 large onion (I used red), finely diced
5 garlic cloves, finely diced
3 tsp ginger, finely grated
2 medium carrots, peeled and sliced
½ Granny Smith (sour) apple, peeled and diced
1 heaped tbsp white miso paste (GF miso for gluten-intolerance)
4 tsp curry powder (I used hot madras curry powder)
1 tsp garam masala
4 tsp tamari or soy sauce
2 tsp rice vinegar
2 tsp mirin (sweet Japanese rice wine) or maple syrup, to taste
OPTIONAL EXTRAS
1½-2 cups of your favourite rice, cooked or steamed
1 head of lettuce, I used lollo rosso
a salad dressing: sesame oil, vinegar, mirin, tamari / soy sauce (all to taste)
METHOD
Heat up 2 tbsp of oil in a frying pan with a matching lid. Add diced onion and sauté until almost transparent, add garlic and a minute or two later add ginger. Fry for another minute or two stirring frequently.
Add sliced carrot, diced apple, curry powder and garam masala. Stir around and fry off for a minute or two.
Dissolve 1 tbsp of miso paste in 1 cup of warm water and add it to the pan.
Simmer, on low heat (with a lid on) for about 10-15 minutes until carrots and apples become soft.
Transfer to an upright blender or use a stick blender to make a smooth, thick sauce. Season with tamari or soy sauce, rice vinegar and mirin. Add more water if the sauce is too thick.
Prepare 4 plates. Pour about ½ cup of flour on the first one. Season the flour with generous amount of salt and pepper. Pour thick, egg white-like aquafaba onto the second plate. Pour breadcrumbs and a handful of white sesame seeds (if using) onto the third plate and line the fourth plate with double layer of paper towel.
Cut aubergine and sweet potato into ½ cm or 0.2 inch thick slices. Don't make them thicker or else the inside will remain raw.
Fill a small frying pan or the bottom of a wok with frying oil and let it heat up.
Dredge veggie slices in seasoned flour first, then in aquafaba and finally in breadcrumbs. Press the breadcrumbs into the slices and shake each piece gently before putting onto hot oil to allow excess breadcrumbs to come off.
Fry for about 1-2 minutes on each side – until the coating becomes golden brown. Place freshly fried pieces on a plate with a kitchen towel to get rid of excess oil.
Serve with rice, a simple green salad and a generous amount of curry sauce.
Quesadillas

This week's recipe comes from one of our lovely kitchen ladies.
Black Bean and Sweet Potato Quesadillas
Ingredients:
1 large sweet potato
1 cup brown rice, cooked
1/2 onion, diced
8oz vegetarian no added oil refried beans
1 cup of salsa
1 cup of fresh spinach
8oz black beans, drained and rinsed
1/4 teaspoon of chilli powder
1/4 teaspoon of cumin
1 jalapeño pepper, diced (optional)
6-8 whole wheat tortillas
1 cup Salsa for topping
Recipe
Preheat Oven at 190 C.
Peel and quarter the sweet potato and bake in the oven for 45 mins to 1hr until soft.
Remove sweet potato from oven and put in to a mixing bowl and mash.
Add the cooked rice, salsa and spinach and diced onion.
Place the potato mash, with ingredients, in to a saucepan and mix in the black beans and refried beans.
Heat the ingredients over a medium heat.
Add the chilli powder and cumin and optional jalapeño to taste.
Place a tortilla in a frying pan on a medium heat. Spoon mixture into the middle and spread.
Place tortilla on top and press down to help spread evenly.
Cook for approximately 3 mins before turning and cooking a further 3 mins.
Remove from pan and cut into sections.
Serve, topped with the extra salsa.
Patatas bravas

Patatas bravas
Ingredients:
3 tbsp extra-virgin olive oil
1 onion, roughly chopped
80g chargrilled peppers, drained
2 fat garlic cloves, sliced
2 tsp sweet smoked paprika
¼ tsp cayenne pepper
1 lemon
350g tomato passata (rustica or regular)
1.2kg waxy potatoes, such as charlotte
Light olive oil or sunflower oil for frying
Sea salt flakes
2 fresh rosemary sprigs (optional)
Handful fresh flatleaf parsley, chopped
Aioli to serve (optional)
Heat the extra-virgin olive oil in a deep frying pan or large sauté pan and gently cook the onion, peppers and garlic with a couple of pinches of salt for 10 minutes or until softened. Stir in the paprika, cayenne and a squeeze of lemon juice. Stir for 1-2 minutes until fragrant, then pour in the passata and simmer gently for 20 minutes until thick. Set aside to cool a little, then use a stick blender to whizz the sauce to a purée (or, if you prefer, leave it chunky).
Meanwhile, heat the oven to 220°C/200°C fan/gas 7. Peel and cut the potatoes into quarters, then cut into 2cm chunks. Put in a pan of cold salted water, bring to the boil, then simmer for 6-8 minutes until tender. Drain well, tip onto a tray lined with kitchen paper and dry well. Toss in a shallow roasting tin with the light olive/sunflower oil and sea salt. Add the rosemary, if using, then roast for 15-20 minutes until golden and crisp, turning once or twice.
Spoon half the brava sauce onto a serving platter, then top with the potatoes. Spoon over a little more sauce and sprinkle over the parsley to serve. If you like, serve with a dollop of aioli (for a cheat's version, mix finely chopped garlic and a squeeze of lemon juice into shop-bought mayonnaise).
Vegetable Tagine

This spicy and warming dish with a hint of chilli is perfect to get the taste buds tingling. Tuck into this tasty tagine that's packed full of hearty vegetables and flavour. It makes for a filling lunch or a satisfying dinner with crusty bread.
30 mins preparation time
45 minutes cooking time
Serves 4Ingredients
30mlvegetable oil
300gonions, roughly chopped
2 clovesgarlic, thinly sliced
½ tspchilli powder
2tspground coriander
2tspground tumeric
1lemon, zest and juice
400gchopped tomatoes
250gbutternut squash, peeled and cubed
250gcarrots, peeled and cubed
250gswede, peeled and cubed
1vegetable stock cube, dissolved in 200ml boiling water
15gbrown sugar
200gchickpeas, drained
40gdried apricots, roughly chopped
25gsultanas
15gfresh parsley, roughly chopped
4bread rolls, to serve
Method
Place a saucepan on a medium heat and when hot add the oil, onion and garlic and sauté for 5 -10 minutes until it begins to soften.
Add the spices and the lemon zest; stir well, sautéing for a further 5 minutes.
Add the tomatoes and the vegetables and stir well.
Add the stock, lemon juice, brown sugar, chickpeas, apricots and sultanas and enough additional water to cover. Then bring to the boil.
Once boiling remove from the heat and decant into a tagine (or casserole dish if you don't have a tagine). Stir in half the chopped parsley, cover with the lid and place in the oven at 160C. Cook for 45 minutes, or until the vegetables are soft.
Remove from the oven and add the remaining parsley. Stir well then adjust the seasoning using salt and pepper. Serve with a bread roll
This recipe has been shared by Mrs Heather which is courtesy of the National Trust and she said 'It was very easy to make as its a one-pot recipe and I kept the leftovers to have for lunch. I will definitely make this again.'